MarsLab/INSPIRE Lab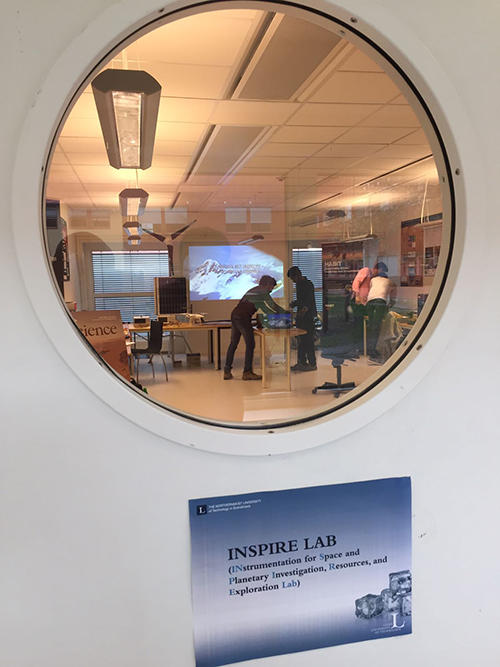 MarsLab is a Martian environmental simulator which is being installed at Luleå University of Technology with the aim of becoming a cornerstone in the HABIT instrument development as well as a reference facility for the further exploration of Mars.
It is composed of the following core elements:
Mars atmospheric-regolith chamber.
Mars wind-tunnel.
Thermopiles calibration bench.
UV photodiodes calibration bench.
Chemical chamber.
Like any other environmental chamber, it will reproduce the basic conditions from the atmospheric-regolith boundary on Mars (pressure, temperature, relative humidity, atmospheric composition, UV irradiation and wind dynamics) and, in a first stage, it will be used mainly in the calibration of the sensors of HABIT's ENVPACK unit and to model accurately the behaviour of the set of salts (BOTTLE unit) by means of which the water exchange cycle between Martian ground and atmospheric boundary layer will be mimicked and monitored. Besides the utility for going into depth in the understanding of atmospheric dynamics, photochemistry, and boundary layer/ground interaction, MarsLab counts on a chemical chamber specifically disposed to perform biochemical studies with relation to the assessment of the habitability potential of Martian surface and near subsurface.
In summary, MarsLab will allow to:
Perform experiments to validate the functioning of HABIT prototypes and of parts of the instrument.
Perform experiments to do end-to-end calibration of certain HABIT instrument components.
Perform scientific experiments for atmospheric, astrobiological, planetary science etc.
Sterilize certain hardware components and test the cleaning level and detection methodologies for Planetary Protection purposes.
Qualify certain components for space operation.
Validate the operation of other instruments prototypes for Mars.
During the course of ExoMars 2020 mission, in whose Surface Platform HABIT will be mounted, MarsLab will serve to get valuable information as an essential support to interpret confidently the data acquired, and also as a guide for their analysis. Nevertheless, and apart from the design requirements imposed by the achievement of these immediate goals, careful attention is being paid in order to construct a versatile facility useful far beyond the scope of ExoMars 2020 mission. MarsLab shows an architecture expressly outlined to permit the implementation of a wide variety of experiments by introducing minor changes, coupling new instruments, or adjusting different arrangements.

INSPIRE Lab
The INSPIRE Lab is a laboratory designed and equipped with all the relevant hardware and software tools to create a multidisciplinary design environment, providing effective communication, data interchange, and engineering tools, so that our team members (staff, Master students, and PhD candidates) can work concurrently in the design and developing of prototypes for space research and exploration. The INSPIRE Lab is a place where ideas relevant for atmospheric research and space come true!