Visit of UAEU students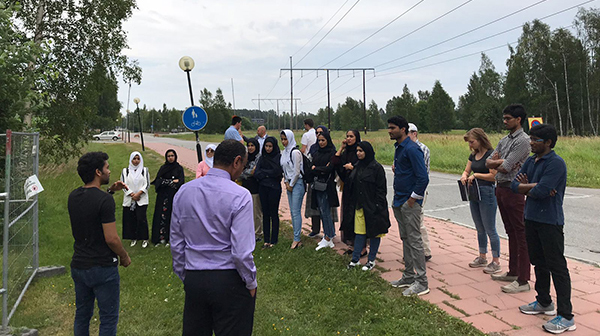 Last week, the Group of Atmospheric Science has hosted a group of students from the United Arab Emirates University (UAEU) visiting Luleå campus, in a first step to establish a frame of regular collaboration between the two universities.
Abdelgadir Abuelgasim, assistant professor of Geography at UAEU leading the group of students, stated that this meeting is meant to start building collaborative educational programmes, workshops and joint research in the near future. He remarked that United Arab Emirates Space Agency has scheduled the launching of an orbiter to Mars, the Hope Probe, within two years, so they need to reinforce the capacity of the university in doing related research and to prepare its students to face the scientific and technological challenges such a venture will pose. As for GAS, this collaboration will mean a full participation in the mission, playing a leading role regarding the management and the scientific exploitation of the data gathered by the instruments on board the orbiter.
During five intense days, every GAS' member has offered a lecture about its particular work, so that the visiting students (all of them women, which is good news regarding the constant concern about the gender imbalance within scientific and engineering high education) have had the chance to come around the Group's facilities, and to know about the development of the different instrument prototypes (from HABIT to Metabolt), as well as about the projects GAS is involved in and how they are communicated in terms of science engagement. Besides, they have got in contact with some research techniques, such as remote sensing and scientific imaging analysis, and have worked with data storage and processing procedures.
Of course, this occasion has served as a basis to raise the next joint activities to be fixed in order to continue and to strengthen the collaboration from now on.
Some of the visitors talking about their experience at LTU.