PVT-GAMERS team at Gravity-related experiments training week
Álvaro Soria Salinas, Riccardo Lucchese and Erik Nyberg, members of the PVT-GAMERS (Pressure-Volume-Temperature Gauging Method for Electric Propulsion Systems) experiment team, attended the ESA's Gravity-related experiments training week, the first milestone in the series of preparation meetings and workshops which will mark the development of the current edition of the Fly Your Thesis! Programme. PVT-GAMERS was one of the two only experiments selected for this year's campaign of parabolic flights, which will take place between 22nd October and 2nd November 2018 according the fixed schedule.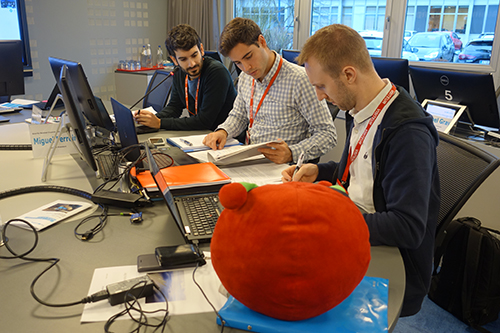 The training week took place at the European Space and Education Centre (ESEC) in Redu, Belgium, whose facilities include the ESA's Proba mission control centres, Space Weather Data Centre, Academy Training and Learning Centre, and E-Robotics lab. The teams selected for the Spin Your Thesis! and Drop Your Thesis! programmes also attended the training, which consist of several sessions to introduce the attendees in subjects such as systems engineering or risks management, very useful for the further works to apply in their respective projects. Besides, workshops on automation, CAD and communication will be performed.
PVT-GAMERS team had the chance of meeting representatives of Novespace, the Airbus A 310 Zero-G aircraft owner, who illustrated the particularities of the plane which will carry the experiments and the key points of the flight. They cleared out as well some basic requirements and conditions which both the team and the experiment should accomplish. In addition, the status of the projects was checked together with representatives from ESA Education office, and a timing schedule has been established to guide the experiment development until the final flight.
Furthermore, it is important to remark that the first components to start the assembly of the experiment were already received at LTU, so the preliminary tests are being performed at the INSPIRE lab facilities.