GAS participation in the 4th NASA's Mars 2020 rover landingsite workshop
Professor Javier Martín-Torres and Professor María Paz Zorzano were among the 10 European scientists invited by the European Space Agency (ESA) to participate in the NASA's Mars 2020 rover landing site workshop, which took place last October 16th-18th at the Hilton, Glendale, Los Angeles. This was the fourth and final workshop on the subject, from which the criteria for choosing a destiny for the mission were definitively posed.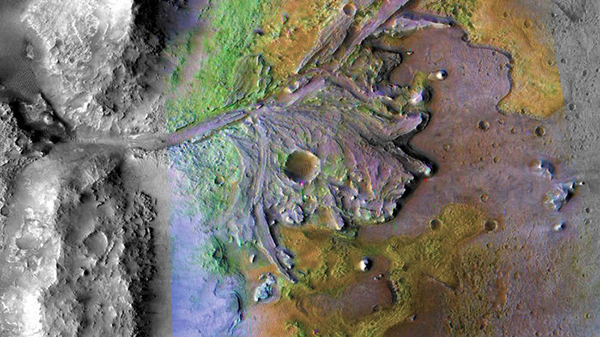 More than 300 planetary scientists came together at the Fourth Landing Site Workshop to discuss possible ways to approach the NASA 2020 rover mission to Mars and to provide a global picture of the scientific context of each of the four considered sites. These "finalist" locations considered are placed on Columbia Hills, Jezero Crater, and in the North-eastern region of Syrtis Major Planum. This latter contains two possible landing areas, one of which, the so called Midway, was recently added to the list because it would enable to reach Regions Of Interest (ROIs) of both Jezero Crater and Syrtis itself.
After three intense days of discussions and talks, the participants evaluated each landing site according to different rating criteria (such as potential scientific outcomes, specific engineering constraints, possible enhanced entry, descent, and landing (EDL) capabilities or planetary protection guidelines.), and the result of this non-binding vote will now be considered by the NASA 2020 Rover Project Management.
The participation of J. Martín-Torres and M.-P. Zorzano in this conference was awarded by ESA. This support was offered to enable a selection of scientists located in Europe to participate in the workshop to aid the Mars community in recommending the landing site that offers maximum potential science regarding the gathering of samples to be eventually returned to Earth that the mission is meant to perform. M.-P. Zorzano presented a work co-authored by J. Martín-Torres and Ricardo Fonseca: "Landing Sites and Mars Sample Return: Environmental Implications on Present Day Habitable Samples?"
This meeting is being followed with attention by the international planetary scientific community.
---
For more information on the event and the final candidate sites visit:
https://www.sciencemag.org/news/2018/10/scientists-home-landing-site-next-mars-rover
---

---