IGOSP Project to attend mercury environmental poisoning
Swedish participation to iGOSP (Integrated Global Observing Systems for Persistent Pollutants) project will pay special attention, among other issues, to the poisoning of the environment with mercury, in accordance with the guidelines established in the Minamata Convention, ratified by Sweden in July 2017. The Swedish contribution within the project is coordinated by Professor Javier Martin-Torres, head of the Group of Atmospheric Sciences (GAS).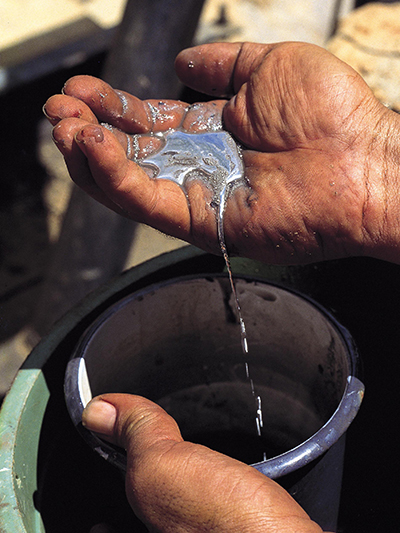 Mercury is one of the most dangerous environmental pollutants because of its capability to spread over long distances in the atmosphere, producing in the process extremely toxic compounds, such as methyl mercury, which are easily absorbed by living organisms. Since it is very slowly degraded and excreted afterward, it accumulates in animal and people tissues, causing severe damages in their nervous systems. It is also transferred to the foetus, and it is able to pass the blood-brain barrier, interfering its correct development.
Therefore, the Minamata convention (a no so well-known but fundamental environmental protection convention) tried to regulate all stages of mercury's life cycle, in order to control the possible contamination sources. The Minamata convention, developed under the auspices of United Nations and signed in 2013, entered into force in 2017, obliging the involved countries to develop and to implement national plans to limit or completely eliminate emissions and use of mercury, as well as safely disposed of mercury waste.
One of the most worrying uses, leading to air emissions, is small-scale gold recovery and coal combustion, something that is done every day by miner children in some developing countries, together with the production of copper, lead, zinc, industrial gold, waste incineration and cement manufacture.

See some of the terrible consequences in this video:
Groundbreaking Treaty on Toxic Mercury https://www.youtube.com/watch?v=Pi_-RHp3Xnw

iGOSP is a deep impact social research project leading by GAS, and it is framed in the ERA-PLANET (The European Network For Observing our Changing Planet) programme, intended to improve and coordinate global Earth observation systems. There are 15 countries and 34 beneficiaries in ERA-PLANET, with a EU contribution of 11 millions of euros from 2016 to 2021. ERA-PLANET have four main Strands covering different strategic goals, such as Smart Cities, Resource efficiency, polar areas, etc… iGOSP is part of the programme's STRAND-3, whose ultimate goal is to perform a real-time monitoring of the quality of our environment with reference to the contamination of air, water and terrestrial ecosystems by persistent pollutants. In compliance with this objective, the Swedish contribution will monitor specifically the presence of mercury in the atmosphere, allowing to locate the emissions hot spot and to design the appropriate measures and policies to efficiently palliate the problem.

The main Work Packages where GAS will be partnering within the iGOSP framework are:
Consortium coordination & management
Fostering integration of in-situ measurements and satellite data
Fostering integration of marine measurements with smart buoys and satellite data
Up-stream services and data publication/sharing
Interoperability, mid-stream and down-stream services
Dissemination and stakeholder engagement and training activities
---
The leading scientific contribution of GAS to iGOSP will be by contributing to:

Demonstrating the usefulness of existing remote sensing systems for specific case studies using data and analysis for water quality parameters obtained by satellites (Copernicus) and other in-situ marine observations (GEO).


---
More precise objectives of IGOSP where GAS will be taking lead are:


To perform the marine measurements with smart sensors for environmental pollutants installed on buoys.
To compare the satellite measurements with marine ones at case study sites.
To analyse gaps in current in-situ and satellite measurements.
To integrate the data acquisition system into Copernicus products and services, and integration and fostering satellite products interoperability with innovative multi-scale observing platforms for delivering Earth Observation services according to user's requirement.
GAS will also develop a specific and innovative outreach campaign to make aware people about this serious global planet problem.