GAS at the 2018 International Astronautical Congress
Álvaro Soria-Salinas, Thasshwin Mathanlal, and Miracle Israel Nazarious, PhD candidates at the Group of Atmospheric Science (GAS), participated last week in the 69th International Astronautical Congress (IAC), held in Bremen, Germany, where they presented four contributions related with several GAS' ongoing projects.
Álvaro (whose attendance has been supported by the Student European Low Gravity Research Association -SELGRA- and the Swedish National Space Agency -SNSA-) gave a talk about the "Improved Pressure-Volume-Temperature Gauging Method for Electric Propulsion Systems (PVT-GAMERS): Flight Model Experiment for Zero-G Validation", which is now just sent to Bordeaux, France, for its participation on the ESA's Fly your Thesis! parabolic flight 2018 campaign. In addition, he offered an interactive presentation about "The wind sensor of HABIT instrument on board the ExoMars 2020 mission".
The talk about "PACKMAN: a portable instrument to study space weather", was conducted by Thasshwin, and Miracle presented the "Calibration and preliminary tests of ExoMars 2020 BOTTLE (Brine Observation Transition To Liquid Experiment) for demonstration of liquid water stability on Mars".
The GAS' team has taken advantage of the occasion to participate also in a meeting of the OHB INNOSpace Master's competition, in which the PVT-GAMERS project was awarded this year.
The IAC, whose this year's motto is "involving everyone", is a scientific conference and space exhibition bringing together some 4,000 participants from all over the world and all the sectors taking part of the space field, from industry to research institutions.
Special attention has been payed on this edition to the "new generation of space experts, the expansion of equal opportunities, the integration of new countries and start-up companies into the global space network, as well as increasing the public participation".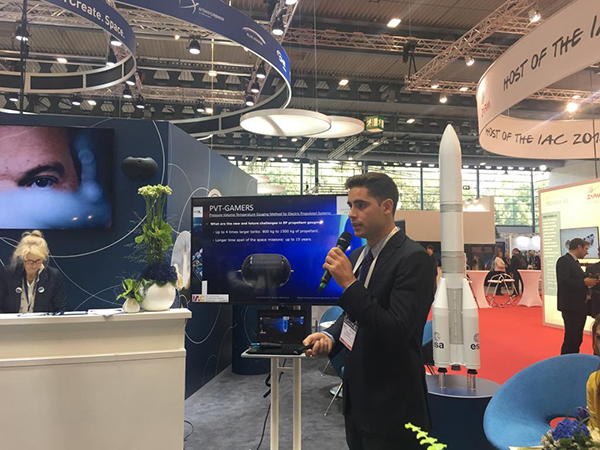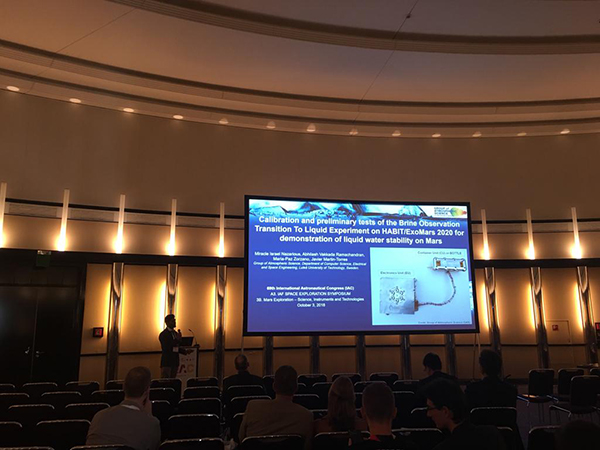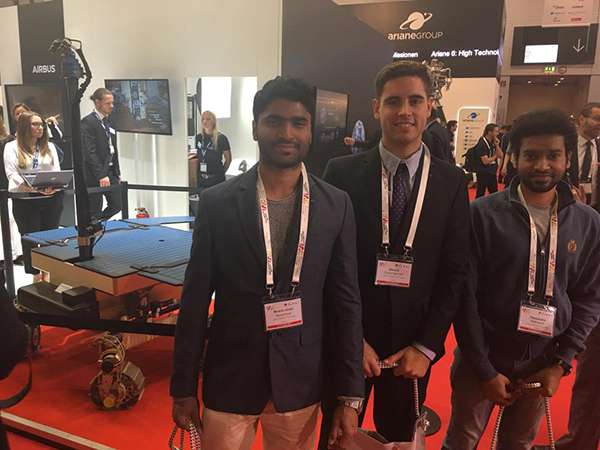 Álavaro Soria Salinas and Miracle Israel Nazarious during their talks, and the GAS team