Debate on Mars exploration future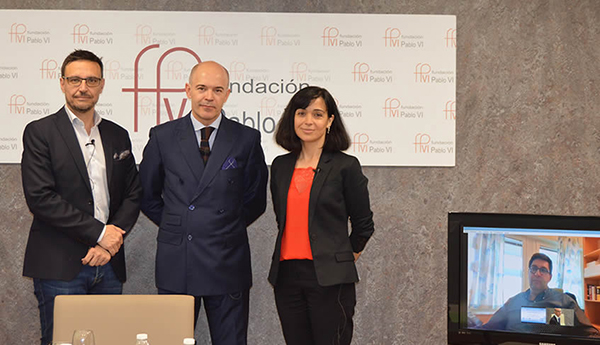 Last May 10th, Professor María-Paz Zorzano and José Antonio Gordillo Martorell, of GAS/LTU, participated in the forum Mars Habitability, organized by the Spanish foundation Pablo VI, Madrid, Spain.
Professor Zorzano opened the debate with a presentation that summarized the current state of Mars exploration, our knowledge about its past and present habitability and the next steps required to be implemented prior to the upcoming missions. She explained both the scientific objectives established for these missions and the long-term goals of the exploration plans, which include ExoMars 2020, where HABIT will be mounted, the NASA 2020 rover that will capture and cache samples, and then an eventual Mars Sample return missions up to a possible future human exploration of Mars.
The possibility that a crew of astronauts can reach Mars someday raised a first debate on the social perception that such a venture would have in society, its impact, and how it could be assumed regarding the current social attitude towards science in general and space exploration in particular. The risk of the biocontamination of the planet was also discussed. It appeared clear to the debating group the need of laws and international agreements on space exploration and the role of the United Nations and the Outer Space treaty was also mentioned. This latter is indeed a current concern which deserves the careful attention of all the involved space agencies.
The audience, with a very interdisciplinary background, showed interest on the economic return of space research, the administrative and legal aspects of Mars and deep space exploration, the possibility for life forms on Mars to be different from those of Earth and the similitudes of this stage in history with other previous historical moments where big exploration campaigns were accomplished.
See the video of the event (in spanish) and photographies in the link below: