WindCoE project winner of the 2018 Arctic Award
The Nordic Wind Energy Center (WindCoE) project has been the winner of the Arctic Project Award 2018, granted by the Northern Periphery and Arctic (NPA) Programme in collaboration with the EU's Regional Development Fund. The Group of Atmospheric Science (GAS) is one of the partners of the project representing the Luleå University of Technology.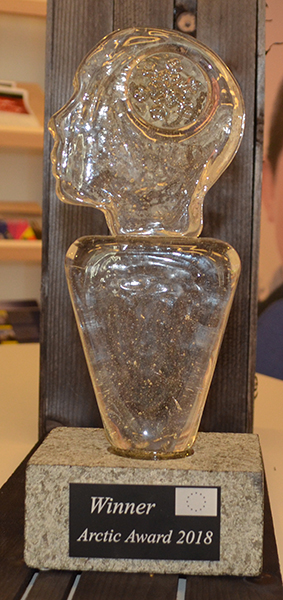 The Arctic Project Awards are meant to highlight, among the projects funded by NPA, Interreg Botnia-Atlantica, Interreg Nord, Kolarctic CBC and Karelia CBC programmes, the most innovative ones, taking also into account their clear Arctic dimension, their capability of creating real, measurable impacts on the ground, and which yield a direct benefit to Arctic communities.
WindCoe is a project framed in the EU's Botnia-Atlantica Programme, whose aim is to support the development of the wind industry by taking advantage of the knowledge about atmospheric dynamics gathered so far through the research that is being carried out in several Nordic universities by means of numerical simulations, weather observations and laboratory experiments.
GAS contributes to a deeper understanding of the meteorology and climate of the Northern Scandinavian region by applying their experience in running mesoscale models, in particular the Weather Research & Forecasting (WRF) model, evaluated against in-situ observational data. The output of the mesoscale models is used to drive Computational Fluid Dynamics (CFD) models, such as the Wind Atlas Analysis and Application Program (WAsP) and the Wind Simulator (WindSim), two industry standard models, in order to provide a more accurate assessment of the available wind resource potential.
The members of the WindCoE project have recently established the Nordic Forum for Wind Energy Research (NFWER) association. The NFWER aims at promoting the sustainable development of renewable energy sources in the Nordic region. This association also comprises members from society, government and industry partners.