GASPAC Team at the international ActinSpace 2018 Final.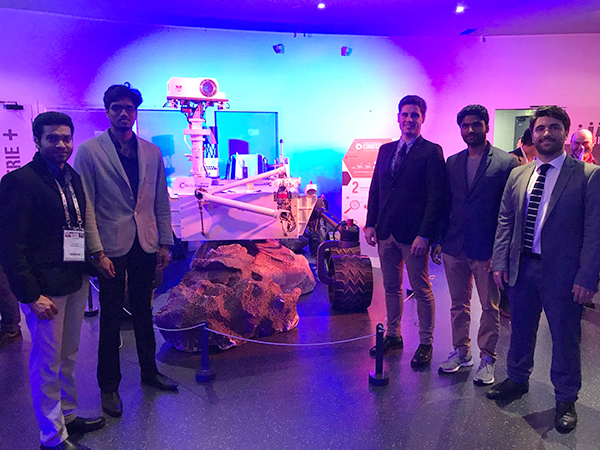 During the past Friday 25th and Saturday 26th May, CNES, ESA and ESA BIC Sud France organized the third edition of ActInSpace®, the top international competition devoted to space applications. The 2018 ActInSpace hackaton was hold concurrently in 35 countries and 70 cities on all five continents. GASPAC was the winner of the Swedish contest and the team was to Toulouse, France, for the international final.
GASPAC (Group of Atmospheric Science Payload Assembly for Citizens), is a team of LTU PhD Students from the Group of Atmospheric Science (GAS). The team consists of Alvaro Tomas Soria Salinas, Thasshwin Mathanlal, Miracle Israel Nazarious, Abhilash Vakkada, and the visiting intern student Roberto Nakhai, led by the GAS senior researchers Chair Professor Javier Martín-Torres, Professor Maria-Paz Zorzano and Associate Senior Lecturer Anshuman Bhardwaj. The winning GASPAC's proposal consisted of versatile payload with a set of sensors to be used in the existing Airbus civil drones and expand the market of applications.
This world-wide competition aims to develop entrepreneurship, motivate innovation and forge ties between space stakeholders and citizens by setting challenges for teams. The third edition of ActInSpace was an enormous success, attracting more than 3,300 entrants. On the day of the event, 2,200 participants took part in more than 550 teams working for 24 hours on one of the 80 challenges set. Students made up the bulk of participants, accounting for 75% of entrants, with the remaining 30% composed of 20% employees and entrepreneurs and 2,6% job seekers.
The final took place on Wednesday 27 June at the Toulouse Space Show, where each country was represented by its best team. The international final was followed by the prize-giving ceremony in the presence of all the international partners who have supported the event: Airbus, Qwant, Invivo, AirZeroG, GSA, CLS, EBAN, FabSpace, Invest In Toulouse, and Toulouse Business School. GASPAC was there to participate and represent Sweden, with the support of Arctic Business Incubator (ABI), at the city of Luleå, and the LTU Business AB.