GASPAC Wins the ActInSpace 2018-Sweden contest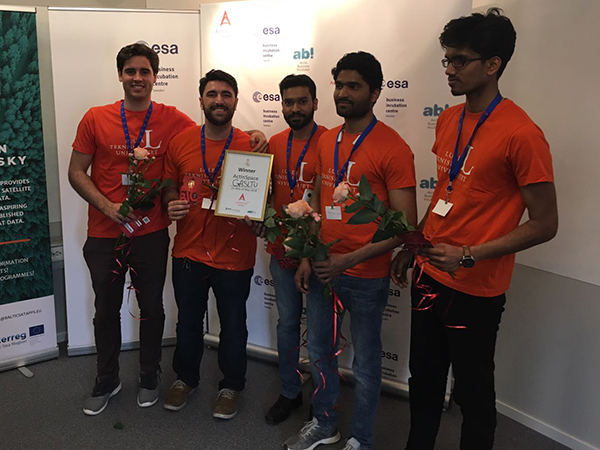 GASPAC (Group of Atmospheric Science Payload Assembly for Citizens), is a team of LTU PhD Students from the Group of Atmospheric Science (GAS), i.e., Alvaro Tomas Soria Salinas, Thasshwin Mathanlal, Miracle Israel Nazarious, Abhilash Vakkada, and the visiting intern student Roberto Nakhai, led by the GAS senior researchers Chair Professor Javier Martín-Torres, Professor Maria-Paz Zorzano and Associate Senior Lecturer Anshuman Bhardwaj. They were the national victors of the 2018 edition of the ActinSpace contest, held in Luleå 25th-26th of May, after completing a hackathon of 24 exhausting hours of brainstorming, creation and prototyping design.
ActInSpace is organized by CNES, ESA and the ESA Business Incubation Centres network. This year there were 35 countries, with 3358 worldwide competitors competing within 24 hours, non-strop, to produce an innovative proposal in response to one of the 80 challenges. ActInSpace is a unique opportunity for participants worldwide to work on creating business prospectives for the challenges by the use of patents, technologies and satellite data made available by CNES, ESA, Airbus and other partners. The challenges are based on high-level technologies, which nevertheless are easy to re-use because they have been selected due to their potential for commercial applications.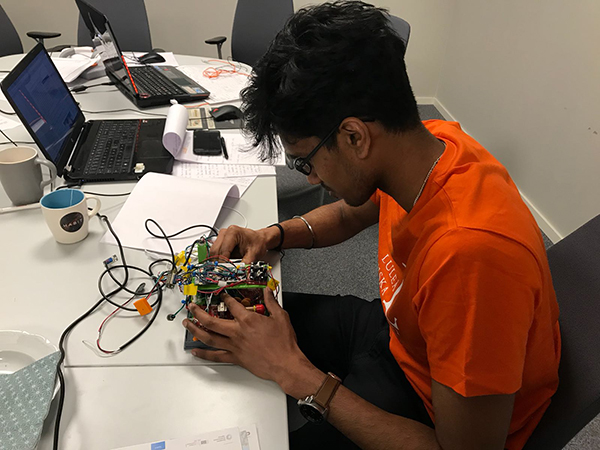 The winning GASPAC's proposal consisted of versatile payload with a set of sensors to be used in the existing Airbus civil drones and expand the market of applications. In particular, the specific payload designed within the 24 h challenge, monitors different atmospheric parameters such as temperature, air humidity, or airborne pollutant particles, among others. This payload provides, through a user-friendly interface, and in combination with remote-sensing space observations, real-time data which can be visualized and used for a wide range of applications: from the location of the best areas to grow crops, to real-time warning for people with health problems such as asthmatics. The potential applications, and hence the market prospects of these kind of low cost technology, are immense. This solution improves the applicability of remote sensing observations, using a low-cost payload that can be flown on already available drones.
This characteristic was one of the strengths that the jury panel highlighted for the concession of the award.
The next stage for GASPAC, as the Swedish winner of ActinSpace, will be to participate in the International final to be held in Toulouse on June 27th, 2018. There, they will be eligible for a series of awards in different categories: a ticket for the weightless experience offered by AirZeroG flights, an A320 pilot training and a visit to Airbus satellite integration room and 3D facilities, or a voucher of 100k€ worth of satellite derived data and support for a start-up creation.
It should be stressed that this is the first time that ActInSpace, an international innovation contest meant to inspire young women and men worldwide to meet real technical challenges using space technologies and space data, has been held in Sweden, hosted by ESA BIC Sweden and Arctic Business Incubator (ABI), at the city of Luleå, the headquarters of the Group of Atmospheric Science.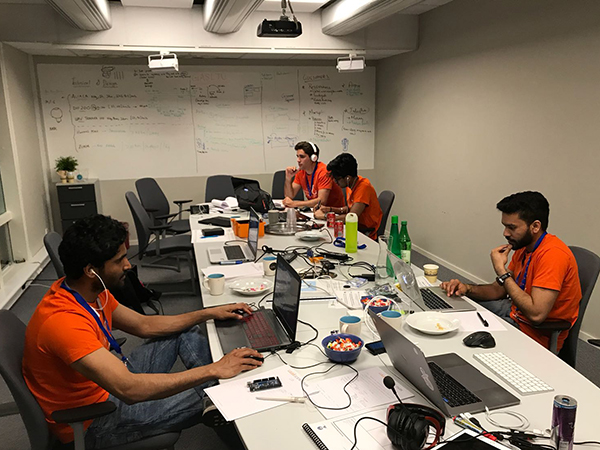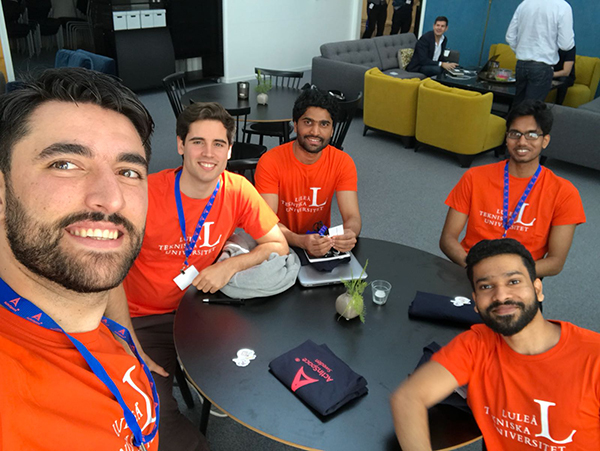 Intense work session and selfie of the team during a break. Credit: GAS