Credits:GAS & Luleå Tekniska universitet
INSPIRE Lab and MarsLab
(Kempe funded)
Exoplanet Research
(Wallenberg & Kempe funded)
In-situ cloud microphysics
(SNSA funded)
Wind Forecast at Esrange
(SNSA funded)
Nordic Wind Energy Center
(EU funded)
SWASDAG
(Vetenskapsrådet funded)
IGOSP project
(ERC H2020 funded)
NoIce Project
(European Research Council)
S3ME2
(Per Bengtssons Foundation)
LEMS
(Smart Cities pilots Grant)
Post-Doctoral Applications
We encourage Post-Doctoral Scholars to research with us. Apply now!
HABIT Tour, One Year Touring Space Science

HABIT Tour is s space communication tool using an innovative format based on a face-to-face interaction with all types of audiences using hands-on resources form them as mock ups, every-day life objects, replicas, etc…
Award-winning GAS research

GAS-LTU PhD students Miracle Israel Nazarious and Thasshwin Mathanlal have participated at the 70th edition of the International Astronautical Congress (IAC).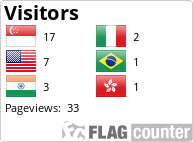 (Visits since November 6, 2018)